Hexagonal Wire Netting
Hexagonal wire mesh is manufactured in galvanized iron or PVC coated wire.
Variety: Galvanized wire netting, plastic coated wire netting or stainless steel wire netting.
Uses: Hexagonal wire mesh with its good corrosion resistance and oxidation resistance, serves well as strengthening, protection and temperature keeping materials, as chicken wire or poultry netting, materials for wrapping pipelines and protection, decoration, stucco netting and fences.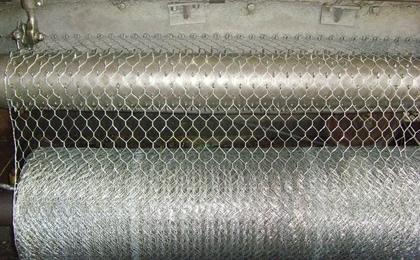 Production Description: Hexagon mesh also named chicken mesh, hencoop mesh and turtleback mesh.
Weaving pattern: Straight twist, reverse twist, and double-direction twist.
1. Galvanized Hexagonal wire mesh have weaving after hot-dipped Hexagonal wire mesh or hot-dipped after weaving Electro hexagonal wire mesh: ,galvanized before weaving Hexagonal wire mesh, galvanized after weaving Hexagonal wire mesh
2. Dipped plastic Hexagonal Mesh also named PVC hexagonal mesh (weaving before dipped hexagonal mesh and PVC hexagonal mesh or dipped before weaving hexagonal mesh and PVC hexagonal mesh )
Hexagon wire mesh surface: Hot dipped glav. Or electro-galv. (galv. After weaving or before weaving)
Mesh size: 3/8", 1/2", 5/8", 3/4", 1-1/2", 2", 3", 4"
Wire size: from 0. 3mm Up to 2mm.
Packing: In rolls. Each roll is wrapped in moisture proof paper.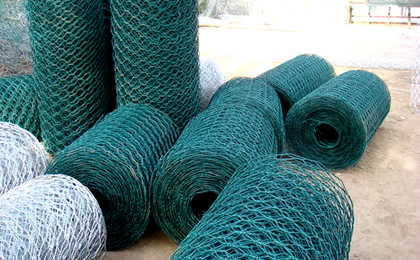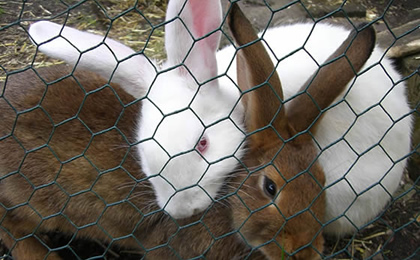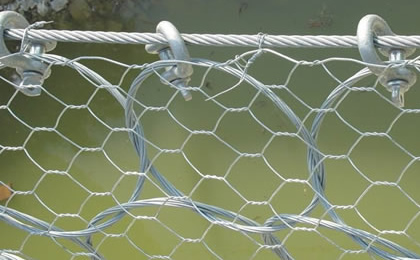 Application: extensively used in industrial and agricultural construction, building works, and all such made for the purpose of reinforcing and fencing as protective cage, guards for window and machinery safety isolation, floor screen reinforcement and poultry cage, fishing, garden and children's play-ground.
specification
Diameter(BWG)
Aperture
1.5CM1/2"
22
limit:2M,single or double edge
24
2CM3/4"
20
width limit:2M,single or double or strong edge
22
24
1.8CM5/8"
21
limit:4',single or double edge
23
25
2.5CM1"
19
width limit:2M,straight or reversed twist
21
23
3CM1.25"
19
width limit:2M,straight or reversed twist
21
4CM1.5"
18
width limit:2M
20
22
5CM2"
18
width limit:2M
20
22
method of weaving
electric gal. hot dipped after weaving.galv.before weaving
others

PVC hexagonal wire mesh(green,white,gray,etc)enamelled green wire mesh